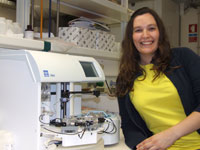 Ana Fernandes-Platzgummer
Post-Doctoral Researcher
Background
PhD (MIT|Portugal Program), 2011
Advanced Studies Course on BioEngineering,
MIT|Portugal Program, 2008
M.Sc. in Biotechnology
(Biochemical Engineering), IST, 2007
Graduation in Biological Engineering, IST, 2005
Research Activities
Embryonic stem (ES) cell expansion and differentiation is usually performed on tissue culture plastic plates/flasks. However, these systems present several limiting disadvantages, namely the surface area for cell cultivation. My research addresses the development of bioreactor culture systems for the large-scale ex-vivo expansion and neural commitment of ES cells. The influence of several parameters such as the initial cell density, the use of 3-D supports, oxygen concentration and agitation and feeding regimens on cells growth, metabolic profile and differentiation potential will be studied to develop optimized culture systems.
E-mail (click on)
Group Members: